Distributor
OK, let's take off the distributer.  I have two vacuum hoses on my distributere, go ahead and remove those.
Remove the sparkplug wires from the distributer.  Then remove the other end from the spark plugs.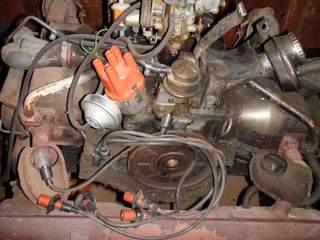 The Distributer is held down in place by a nut screwed onto a stud, between the engine and the distributer.  Remove that nut and put it into a bag labeled "Distributer".  Your distributer might pull out hard, mine was moderate, this just depends on the quality of the seal.
Note the position of the tong on the distributor   It is off-set a little so it only goes into the slot one way.  There is also a spring inside the hole in the case, be sure that it is present.
Put that distributer into the "distributer bag" and move on the the next step.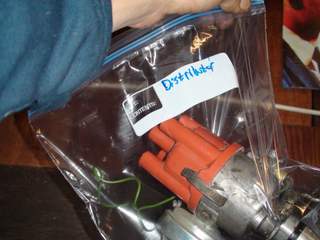 Intake Manifold
Now let's take off the intake manifold.  First off, we need to take the carburetor off.  Start by taking off the oil bath cleaner on the top, then remove the two bolts that hold the carb to the intake manifold.  Make sure to disconnect the fuel cutoff and automatic choke wires.  Also remove the vacuum hoses.
The carb is off, we can remove the intake manifold.  This has four connections with two manifolds allatch via rubber gaskets.  There are gaskets between all of these connections.  The four connections have two nuts each, which can easily break off.  I recommend a rust penetrating spray to remove these.
Here are the nuts, as you can see, mine broke off.
Now remove the rubber between the pieces.
With that remove, we can remove the maifolds on each side of the engine.  I do believe that the nuts are 13 mm.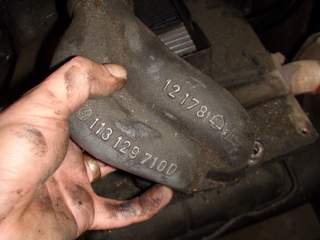 Take all of those nuts and put them into a bag and label it "Intake Manifold".  Here is mine completely removed.