Let's go to the rear of the car and look at these lights. Mine was hooked up incorrectly, according to many wiring diagrams, where the black and red wires should be switched. There is a Driver's side assembly as well as a mirror image passenger side assembly.
These assemblies contain the following lights:
| Light | Position in Assem. | Wire Color | Bulb |
| --- | --- | --- | --- |
| Turn Signal | Top | Black | VHD-N17-710212V 25W SF |
| Tail Light | Inside | Grey | VHD-N17-710212V 25W SF |
| Brake Light | Outside | Red | VHD-N17-710212V 25W SF |
| Reverse Light | Bottom | Blue | VHD-N17-710212V 25W SF |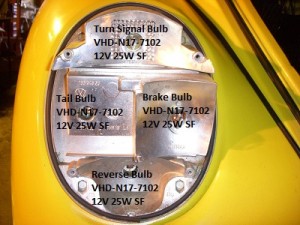 Looking at the connector inside the trunk (passenger side) you can see the following:
| Harness Wire | Light Wire | Connector |
| --- | --- | --- |
| Brown | Brown | Ground in trunk area |
| Black | Blue | Triple in Trunk Area |
| Black/Green | Black | Triple in Trunk Area |
| Red/Black | Red | Triple in Trunk Area |
| Grey/Red | Grey | Three-way in Trunk going to Plate light |
The license plate light is a VHD-N17-7182 12V4W bulb with a Grey/Blue and Brown connecting to a double between the hood and upper firewall.
Now, here is where the Mexican parts fail. The assemble I bought was sop cheap, it broke upon installation. I cleaned off my old solid ones from Hella and re-used these with the new lenses. The lenses needed to be modified by taking out the tin plates at the top and bottom, they are way to large for the Hella unit.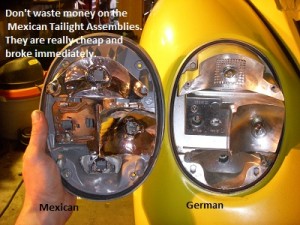 Okay, now plug in the battery and give them all a test. Fast flashers are short circuits, either at the bulb or wire. Usually the bulb needs replacing.
MAKE SURE YOU HAVE ISOLATED THE WIRES RUNNING TO THE TEST CONNECTOR. You will drive yourself crazy trying to figure out intermittent problems.